If you're a motorcyclist that wears protective gear all the time, you will probably go through a pair of gloves quickly. I purchased the Dainese Carbon Cover S-ST motorcycle gloves in May 2015 and have grown to really like them.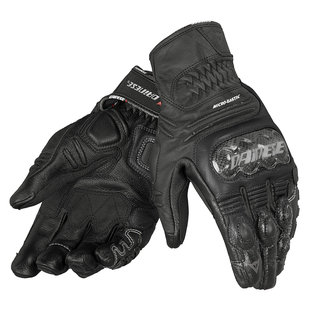 Here's why I've grown so fond of them:
Fit: I wear a medium and they fit snug, but not too tight. I have a 45-year-old injury to my left pinky finger that is bothered by most tight-fitting gloves, but these gloves don't bother the injury at all
Look: They look gnarly with is multiple patterns and overlays along with the protective bits
Protection: While we'd prefer not to crash, if we did while wearing these gloves, we'd greatly reduce any hand injury. A special design on the pinky fingers reduces the amount the pinky finger will bend backwards during a ground impact. There's also a skid pad on the palm.
Velcro Strap: This strap holds tight and is in a great position. I've had 6 or so pairs of gloves where the velcro dies before the gloves are used up – these Dainese motorcycle gloves will not have that problem
The only challenge with these gloves is cost – around $160. But, if I'm wearing gear in case of an accident, I'm glad to pay this amount for the level of comfort and protection these gloves offer. You can watch a detailed review by the folks at RevZilla below.
Check out RevZilla's selection: (they ship for free for orders $39.99 and up).


Here's a video review from RevZilla.com