One of the biggest challenges to motorcycle ownership is keeping your motorcycle clean and protected from the weather when you can't keep the motorcycle in a garage. An obvious option is to use a motorcycle cover to protect the bike when you're not riding it. But, how can you determine what is a good cover and what is, well, crap!?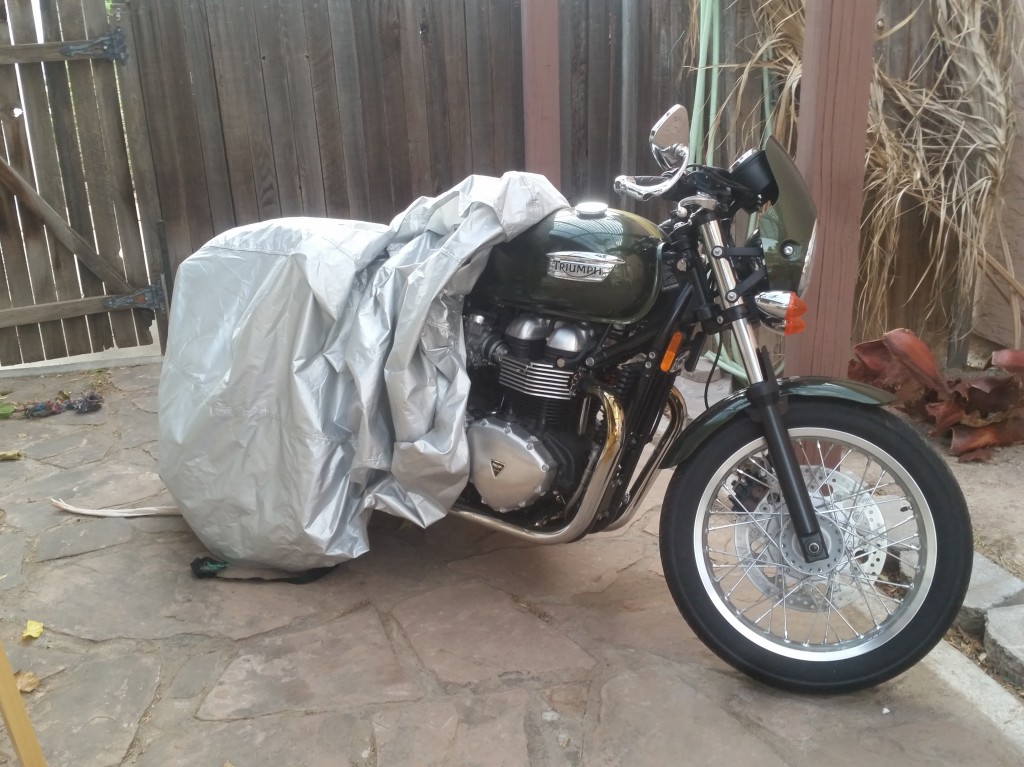 Motorcycle Melee had the opportunity to review a Platinum Shield cover from CarCovers.com (don't be fooled, they offer all sorts of covers).  Motorcycle Melee's tester – Jay Lauf – owns a 2014 Triumph Thruxton and is one of the unfortunate motorcyclists that is required to keep his motorcycle outside. He put this cover through its paces for the last 4 or 5 weeks and is pleased with its performance, durability and utility. Here's his detailed review using the follow categories:
1. Aesthetic appeal – how does the cover look on the bike?
The cover looks great on the bike. The silver color looks flush and the small  fabric designs go with the bike. I would love to see some color if I purchased my own.
2. Fit – how does the cover fit the bike?
The cover fits nice and snug. It is not too difficult to put on the bike, maybe 30 seconds to put on and about a minute to remove and stow away.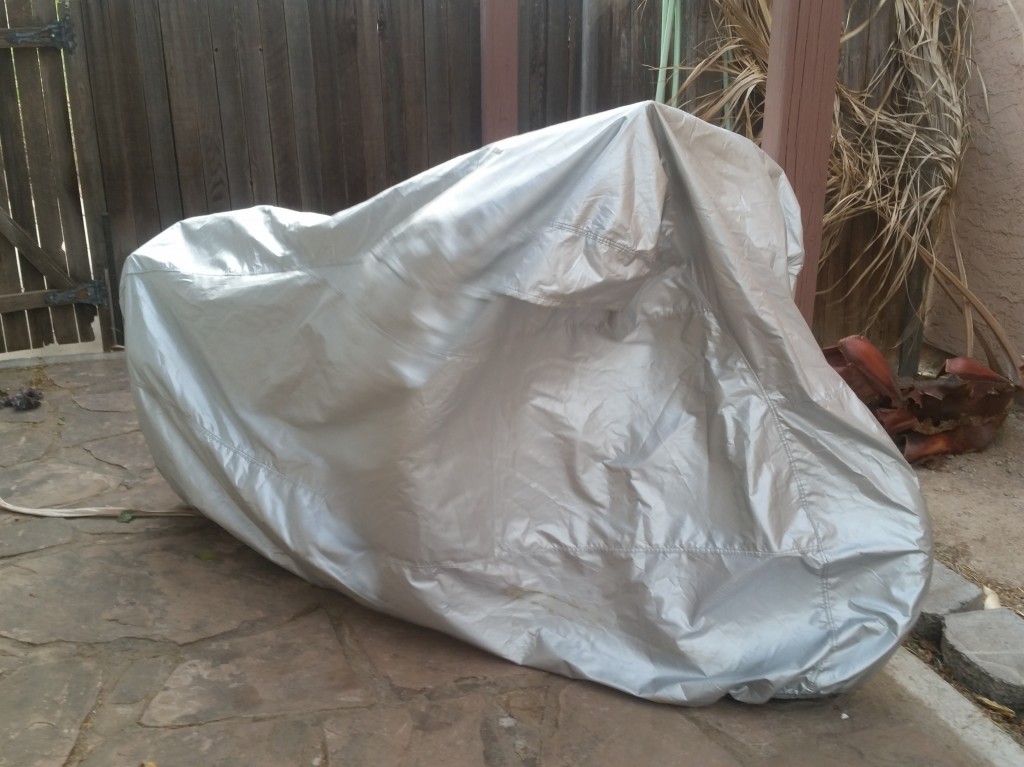 3. Ease of use – how easy is it to unravel and cover the bike?
Fairly easy, I can always tell the front and back ends by the labels on the bottom side of the cover. I've worked with car covers before that don't label front and back sides. .. what a pain. I do have to remove with caution around the lights, other than that, it's easy.
4. Level of protection – how well does the cover protect the bike?
So far, every time I've had it on during the rain, the bike stays in mint condition (or at least the condition it was in prior to putting on the cover). It covers from the bottom of the back tire to the bottom of the front tire. Perfecto
5. Storage – how easy is it to store the cover when not in use? What size can you fold it into?
The cover takes up a small space in my opinion. I would rather have Durability and thickness to a cover rather than being able to fold it 20 times down. I can get it to about the size of a basketball when I try.
6. Durability – how well does it hold up to Arizona heat and repetitive dons and doffs?
It has been holding up great. It reflects the sun very well and keeps my seat cool. Taking on and off hasn't seemed to make any noticeable marks on the cover or bike. I like the extra heat guards that line up with my pipes (smart design).
Anything else you encounter you feel is noteworthy.
I really enjoy the cover. It makes me feel better for leaving the bike outside since I no longer have indoor parking for it. At my last job, we would store cars in our large indoor garage for months at a time using car covers and my boss swore by carcovers.com so I'm familiar with their products. Personally, I would like to see some color on the cover or a logo to give it that extra pazaaz! Good cover overall. Idk how much it is worth, but if the retail price is reasonable then I give it a 9 out of 10!
A bit Motorcycle Melee thanks for Jay taking the time to use and review this motorcycle cover. So if you're in the market for a motorcycle cover it looks like CarCovers.com is certainly worth checking out. If you purchase a cover from them, let us know — we'd appreciate your perspective also.
And for some motorcycle eye candy – here is Jay's very awesome 2014 Triumph Thruxton all by itself.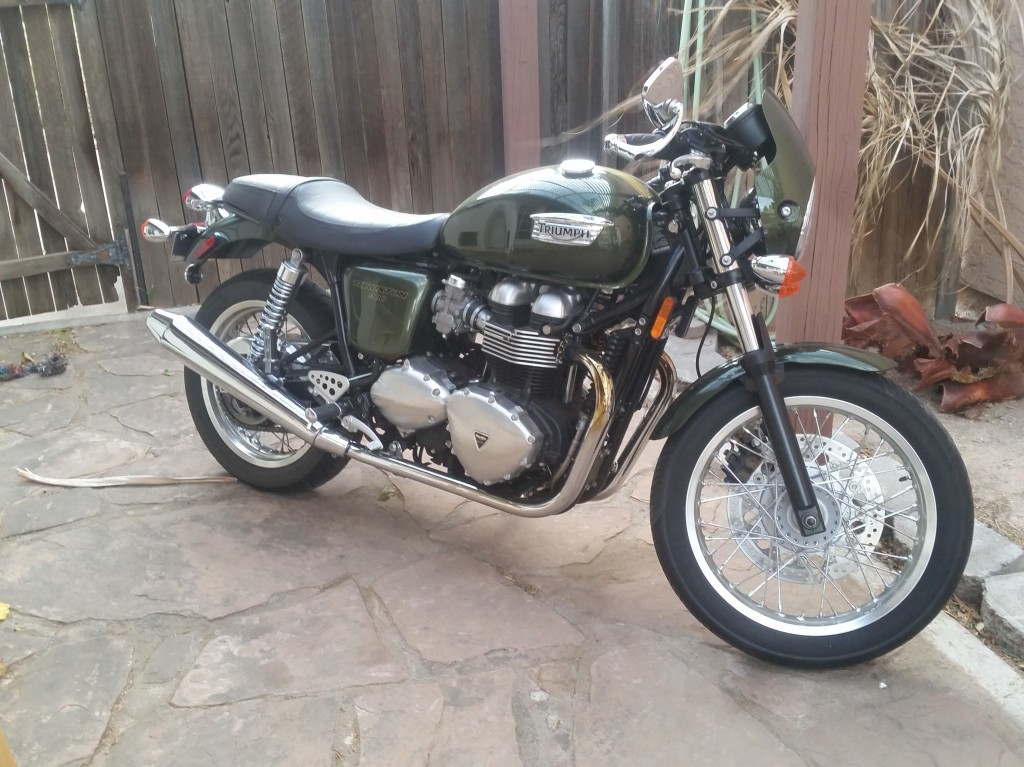 This has been a product review of the CarCovers.com Premium Shield motorcycle cover for the 2014 Triumph Thruxton.