43,000 miles!
That's the number of miles that was on my 2012 Yamaha FZ6R when I decided it was time to buy a new motorcycle. I did not want to trade in the FZ6R because I had transformed it into a pretty cool streetfighter, but that's a lot of motorcycle miles so the decision was cast – time to find a new bike.
I really liked the Yamaha line-up  and was eyeballing the FZ-09 and the FZ-07 – along with an FZ1. From these options a single selection was a challenge. Each bike offered its own pro-con list. The FZ-09 offered super torque and acceleration, but at $8,190 I was hesitant. The FZ-07 had a better price tag, but when I test rode it at the Progressive Phoenix Motorcycle Show I didn't like its handlebar position or engine feel & sound.
The FZ1 was a 2014 that was new and had a significantly reduced price, $7,999, but I really don't like headlights that are stationary in a fairing (I like my headlight to turn with the handlebars). Another option was the new 2016 Triumph Bonneville Street Twin, but it too had a steep price tag.
After researching and searching I came across a local dealership that was advertising a Yellow 2015 FZ-09 for $5,999 — yes that's correct: $6K for a brand new 2015 model.  I made my decision. Then, of course, comes the sales process – jeeze – probably in the top 10 list of least fun experiences one can have. The process took nearly a week – getting paperwork done and my loan processed – at Hanscom Credit Union (a mere 2.44 % interest rate). Finally 2 days ago on Wednesday, 17 Mar 2016 I picked up the new bike.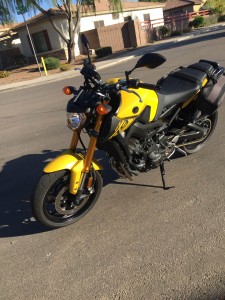 While I miss the FZ6R because it was unique to me, I'm enjoying the quickness of the FZ-09.
What's your new motorcycle purchase story?
————–
Motorcyclists Exclusive:
Buy Stuff Online :: get money back.