Just when you think motorcycle design has reached its pinnacle, someone comes along and breaks, uh no, smashes the paradigm. Thanks to Bike EXIF for bringing this one to the masses.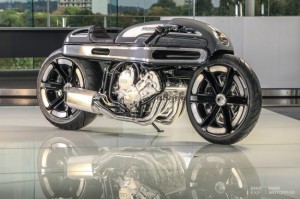 Fred "Krugger" Bertrand does just this with his version of the BMW K1600. Six cylinders (yes 6), seven computers, multiple drive modes … this is a beast in a George Jetson-style — albeit a very fast Jetson — motorbike.
Read the Bike EXIF article for details.