Demo Ride: 2015 Ducati Monster 821.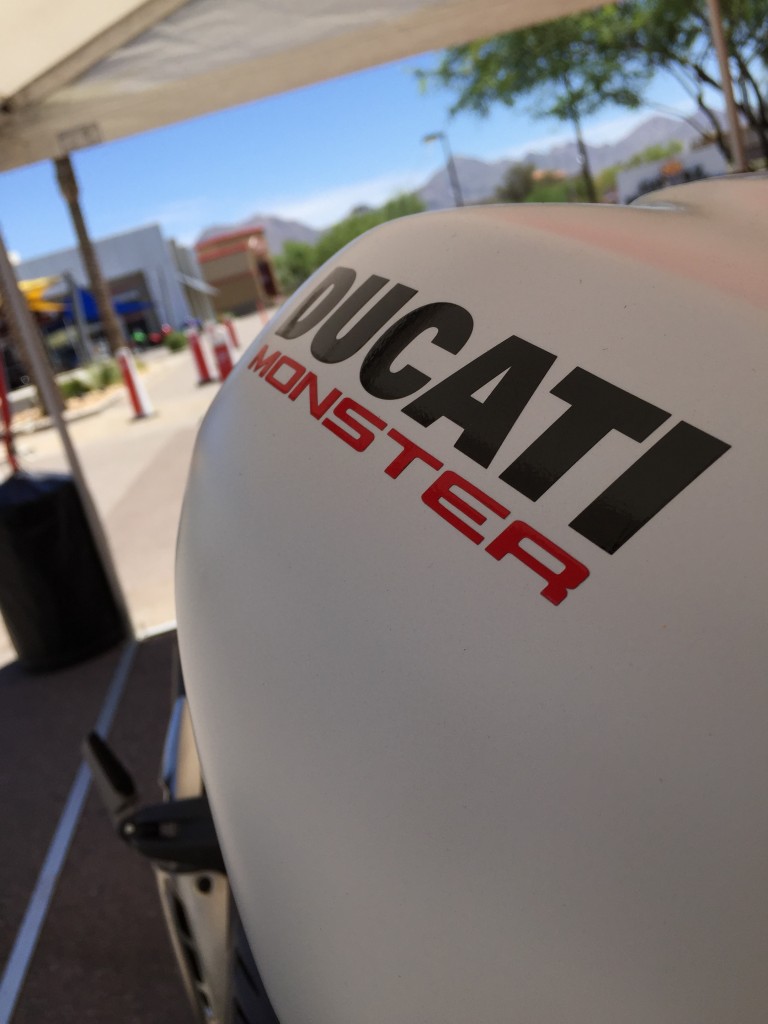 The Monster 821 is appropriately named – for a couple of reasons, but as an urban commuter it requires extra clutch and throttle manipulation for smooth riding.
Pros:
Fabulously sexy looks
Incredible sound
Superb acceleration
Awesome front brakes
Nimble 'flick-ability'
Great for short riders
Cons:
Touchy throttle response from a stop
Rear brake pedal response
Muffler position for right foot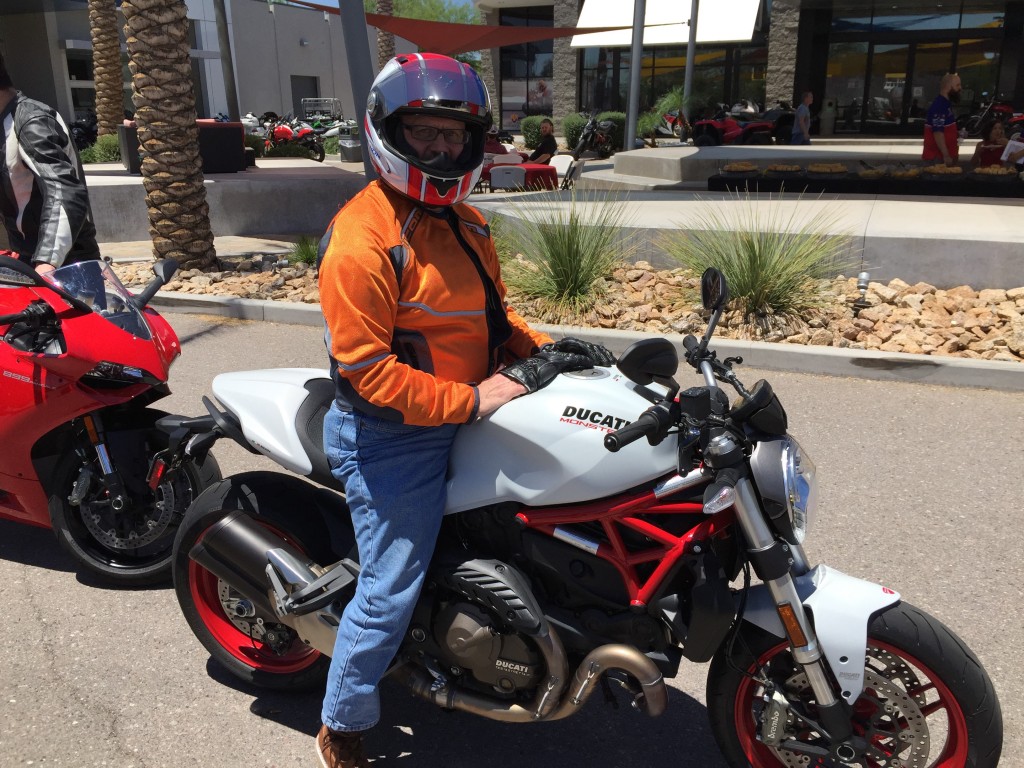 The Ducati Experience Tour made a stop at GOAZ Motorcycles in Scottsdale, AZ where I had the chance to take the Monster 821 for a ride.
Let me start by saying I have lusted after the Monster for several years – wanting one more than anything (or so I thought). The Monster 821 – like its predecessors—the 796 and 696 – is just plain sexy. The Monster has a mean, ready-to-do-business look about it that just cries 'ride me like you stole me.' Just sitting on this bike gave the feeling of fun—and riding it for the 30-minute city-roads demo was indeed a lot of fun. The acceleration was crazy good – a quick throttle twist in 2nd and into 3rd gear and a glance at the speedometer told me I was at 62 MPH – in no time. Stopping was simply awesome – at least the front brakes were awesome. Squeezing the front brakes gave me the confidence that this Monster is quickly tamed with its world-class front brakes. Maneuvering the Monster was child's play. It was easy and a blast to flick around obstacles and while leaning into corners. The sound of the stock muffler was all Monster—a low growl that alludes to the power plant's desire for speed.
This is a good bike for shorter riders. I'm 5′-5″ and was able to comfortable place both feet on the ground while stopped. I would say I was firmly tip-toeing with the balls of my feet to my toes touching the ground.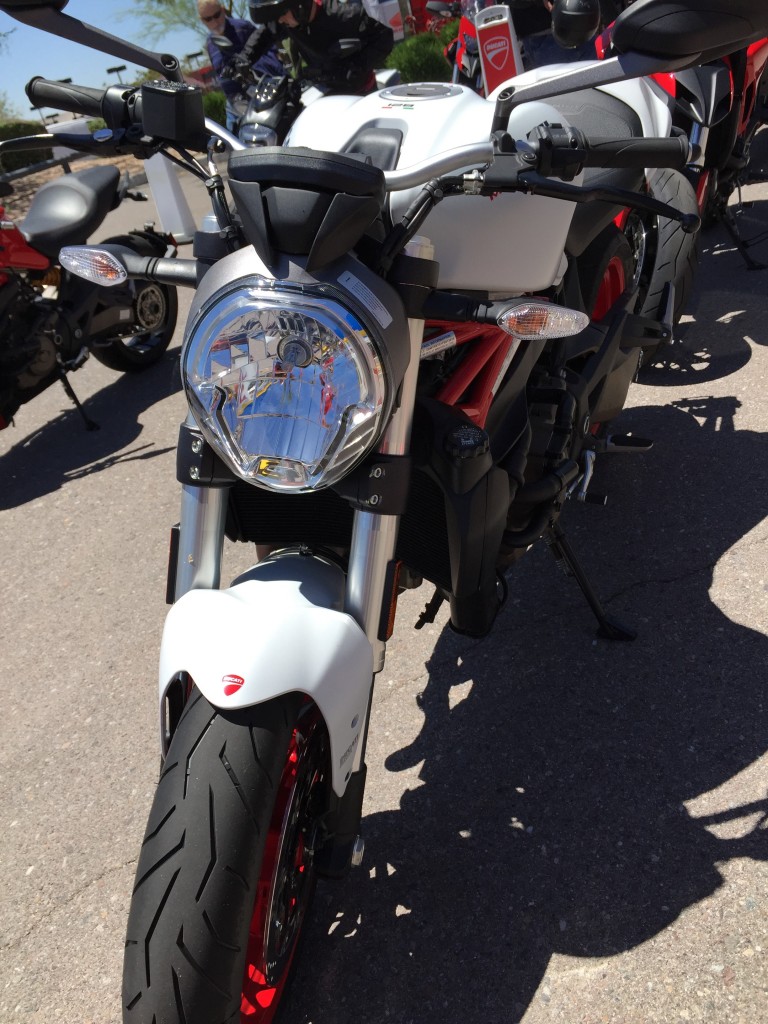 While the Monster 821 was a blast to ride, I felt the Monster had some challenges. First, the rear brake pedal seemed unresponsive. When I pressed down on the pedal I didn't feel any braking being applied – I relied on my front brakes (which I normally do, but still I felt the rear brakes on the Monster didn't react well to my pedal push).
Accelerating the Monster from a stop seemed a bit touchy to me. There was a low-speed shudder and I felt like I had to get the RPMs up very high before releasing the clutch into its friction zone or it would have stalled out. It felt like I was trying to start out in second gear and only by increasing the RPMs could I proceed without stalling. In fact, one of the other riders riding the 1200 did stall out starting off from a red light. This could be the clutch or it could be Ducati's L-twin engine configuration. Whatever it is, I felt like the Monster 821 was too much work for in-town street riding where there would be lots of starts and stops. As a reference, my daily ride is a Yamaha FZ6R modified to be a streetfighter. That is an inline 4-cylinder 600 cc power plant and its throttle response with the friction zone is like melted butter – I never feel a shudder like that bike will stall out.
Finally, there is a position problem with the bend in the muffler. I ride on the balls of my feet and the heel of my right foot rested squarely on the muffler. This caused an unbalanced feeling between my left and right feet which played like a broken record in my brain as I was riding – I really couldn't get comfortable in my feet position for the entire ride.
Is the Monster 821 a fun bike – no doubt! But if you too are lusting after one, I recommend you take it for a demo ride before you fill out your loan paperwork or plop down the approximately $13K out-the-door cost.